Why Content Creation for Hypnotherapists
just got easier
I totally get it – creating content can be a Pain in the A**!
We're all juggling busy lives, and adding content creation to the mix can seem overwhelming.  But here's the good news –  it's about to become much easier because I'm about to spill the beans! 😉
I exclusively work with fellow Hypnotherapists like you, and I've learned a thing or two about the unique challenges of content production in your field – and how to conquer them.
So, what if I told you that the simplest way to get your message out there is through video?
And no, I'm not talking about the latest Instagram Reels craze. I'm thinking more along the lines of landing pages or email funnel send-outs.
I know it might sound a bit daunting at first, but hear me out.
And don't just take my word for it either! First, let's look at some numbers that will show you why it's a good time to get started! 🎥
Statistics aside, here is why this matters specifically to Hypnotherapists:
1. Build Trust
Video allows people to get to know the real you before meeting in person. It's a genuine way to establish a connection and choose you over the competition. 🤝 
2. Save time
No more wrestling with lengthy articles. Video makes it easier to demonstrate relaxation techniques or share success stories. 🕒
3. No Hard Sales
It's harder to sound salesy when you're speaking – it's a built-in safeguard, if you will. 🛡️
Now, let's address the elephant in the room.
What happens when I ask my clients to create videos the old-school way, just by picking up their smartphones or sitting in front of their webcams and hitting record?
Well, about 80% of the time…
Nada. Absolutely nothing.
Procrastination, perfectionism, and paralysis take over.
That's where I step in with a little Sibi Intervention 🚨 so we get things done. And don't get me wrong, I'm not pointing fingers here; we're all in the same boat – myself included!
Why?
Because…
Staring into a camera alone feels strange.
Nerves kick in, leading to awkward 'umm, you know, so, like' fillers.
Suddenly, authenticity feels like an act rather than a reality.
Or, in some cases…
We end up reading from a script or rehearsing it to the point where it's painfully obvious.
Or, worst of all, it becomes downright boring.
How to make video work
Don't worry – there's no need to learn presentation techniques or transform into a TV show host. You can be yourself and still succeed. That's why I developed the 'GET' Method for Authentic Video Creation.
I came up with and tested this method to simplify content production for Hypnotherapists – and I'm happy to report that it works like a charm. It helps to overcome procrastination, perfectionism, and imposter syndrome.
The 'GET' Method involves three simple steps:
'G' – Step 1: Generate Your Idea
'E' – Step 2: Execute with Ease
'T' – Step 3: Tweak the Details
It's as straightforward as "GET it done!" This method is a shortcut to creating authentic videos for your Hypnotherapy business.
And the best part? You might already be using elements of this method without even realizing its power for your video creation.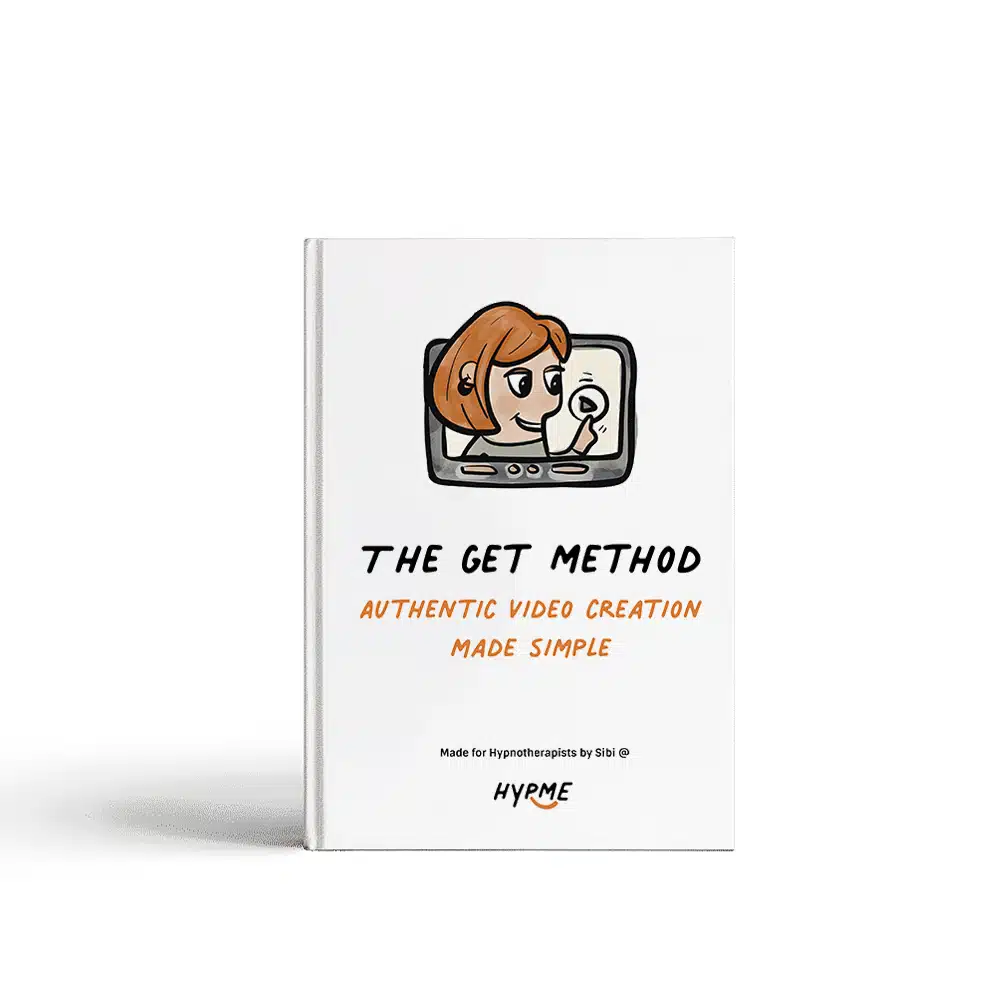 You can grab your GET Method Ebook here. It's a super concise and 100% fluff-free 7-minute read.
New Update as of October 3, 2023 – due to high demand:
50% OFF with code

'SPILLTHEBEANS50' – now €22.50

instead of €45

!

A tiny investment to keep my coffee and your creative juices flowing! ☕
Who can benefit from the GET method?
Hypnotherapists looking to enhance their online presence with video without the hassle.
If you'd rather enjoy a cup of coffee ☕ than slave over lengthy articles, this method is tailor-made for you. It's simple, effective, and might even bring a smile to your face.
So, if you're ready to:
Banish procrastination in content creation
Craft content for your email funnel, landing page or Social Media
Embrace a natural, authentic, and relaxed approach to video
Create content without the need for expensive equipment
Prioritize progress over perfection
You're in the right place!