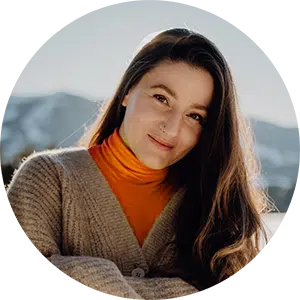 Working with me is for you…
If you want to position yourself as an Expert in your field and are ready to take on this new role instead of trying to offer everything to everyone.
If you want to get clear on the central problem you're going to solve and for whom, so you finally get your messaging on point and don't wonder who your ideal audience is.
If you want to build a business with a purpose that reflects your passion, interests, expertise, and future aspirations.
You understand that the Audit is only the first step. Crafting your unique Hypnotherapy Marketing Strategy is a process, and you need to be open to progress and change.
My methods of teaching come with guidance and assignments to ensure your progress in between our sessions.
Please note that I cannot guarantee certain results as everybody I work with is different. Your level of success relies on how much work you're willing and able to put in.
Working with me is NOT for you…
If you're looking for a quick fix or expect all of your business problems solved within one hour. Which I'm sure is not the case, right? 😉
The Saftey Net
You can book your first session risk-free thanks to the safety net: If you believe the Audit is not for you during the first 15 minutes of our call, you get a full refund, no questions asked.
Frequently Asked Questions
Can you tell me more about the Audit Process?
After you schedule your Audit, you will get a link to a preparation form, that will help me assess your current situation. 
Although the Audit formally is for only 1 hour, it can sometimes extend to an extra half-hour or hour depending on where our conversation takes us. I prefer a comfortable atmosphere in which one feels safe to share their thoughts and ideas – that's why I never stopwatch my sessions.
You can imagine the Audit like a friendly and relaxed conversation or a guided coaching session. We will explore options together that are available to you based on your experience, interests and aspirations.
You never know what you'll discover – sometimes my clients take brand new approaches that have never been tried before – anything can be designed to work as long as a therapeutic approach is the logic response to a "severe" problem. But of course, one has to be brave enough to give it a go.
What else is included in the initial payment apart from the one-hour Zoom Consultation?
The Background Check: It also includes the prep form and evaluation of your current online presence (website, social media, any ads you might be running).
Will you be available to provide further guidance after the initial consultation?
Yes. After the Audit, if you wish to move forward with me as your guide, I will provide "homework" assignments following each session in order to help you progress.
Will it require further payments?
I provide customized sessions at a cost of €345 each (typically one to two hours), offering guidance in strategy, copy and content. From the start of your project right through to launch – or any point you may get stuck along the way. There is no commitment required: you can book each session as it suits you best.
Furthermore, I also provide a tailor-made design workshop for your website or landing page. 
What is the actual budget for working with you to achieve the set goal?
It's a tricky question to answer since I have not seen two Hypnotherapists take the same path yet.
Some are happy uncovering their unique Hypnotherapy Niche and then exploring on their own first, others aim bigger and strive to construct a complete sales funnel.
The number of sessions required to reach your desired goals also depends heavily on your experience and skillset online (e.g. copywriting, content creation, managing Google Ads campaigns, or constructing websites…) 
Let me give you an example of what the process could look like: 
During our first session, we will focus on pinpointing your business's direction.
In the second meeting, I'll help you hone in on which words and phrases to use when connecting with your target audience online  (keywords/search terms).
Our third get-together will revolve around planning the content for your landing page/lead magnet. 
And after each call there are tasks that should be completed as homework.
Not sure?
If you're still unsure, reading some client reviews can be helpful. Please don't hesitate to contact me if you have further questions.
Let's embark on an exciting journey!
Best wishes from the Austrian Alps,
Sibi